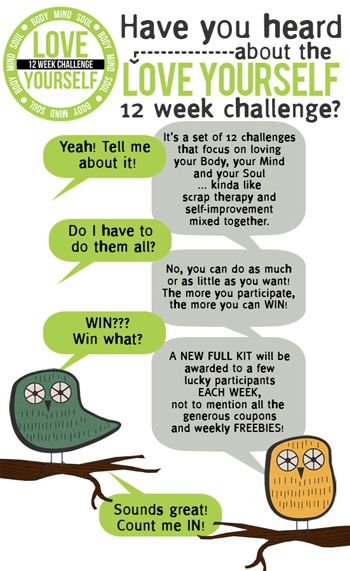 I mentioned Lynne-Marie's Love Yourself challenge briefly the other day and I promised I would get back to it. She has designed this 12 week challenge (or programme I'm tempted to write) so that we can focus on our mental and psychical health. The challenge will be in four rounds of three. Body - Mind & Soul. Each round will focus on different things. Here's what she wrote we would be doing these 12 weeks:
You will challenge your body to a more healthy lifestyle.
You will challenge your mind to overcome obstacles.
You will challenge your soul to a deeper sense of your purpose in life.
This left me thinking; I do very much want a healthier lifestyle. I have been good at letting my mind set up obstacles. I have no idea what my purpose in life is. (Really does anyone know and if they do - how did they come to know it?) So this challenge had to perfect for me and so far it does feel like a pretty good match.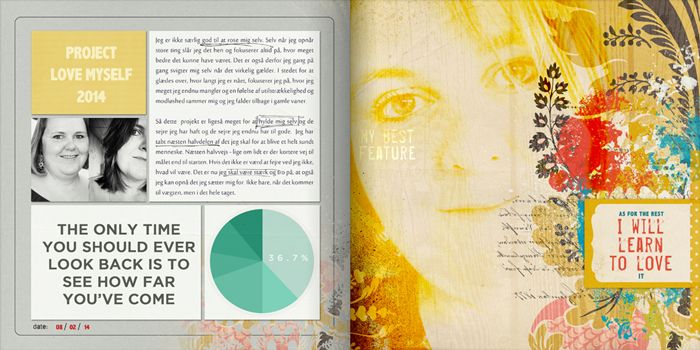 The first week has just ended where the focus was on the body and more precisely on our favorite part of ourself and what could do with some working on. There's no doubt that I think my eyes are my best feature. Always has, always will, but as for the rest goes - I need an update. If you recall from one the first posts I did this year, I added 'Start eating more healthy' on my to do list and I have. I know I've been kind of quiet about it here but I am taking better care of myself. There's still room for improvement but I'm getting there. Only last week and the week before, nothing happened on the scale and I was feeling pretty low. That is why my focus in my journaling was on how far I've come. 36.7% of what I need to lose. I need to feel proud about that.
Now just because the first week is over, it doesn't mean it's too late to jump on board. You can do that any time you wish and today the next challenge was posted. It is focused on achievements and sacrifices. In this case my journaling ended up being a bit too personal for me to share so I've blurred it in my web file.
The challenge is to make a timeline of our achievements. I won't go into details with the challenge - Lynne-Marie does it so much better than me
right here
. In my case I found it extremely difficult. I could do a work related but what does it say about me? Eventually I did come up something I feel are achievements that helped form who I am today. But I have to admit that over this past week when I saw the other CT members post their timelines I felt sad when I looked at my own. I thought is this really it? Everyone elses's were so family oriented. Children in particular. Yeah, that bummed me out BIG time. This is a journey and that was a major bump in my road.
Anyway I do hope you will check out the challenge. You might be able to use it all but if you can walk with just a bit, wouldn't it be worth it?