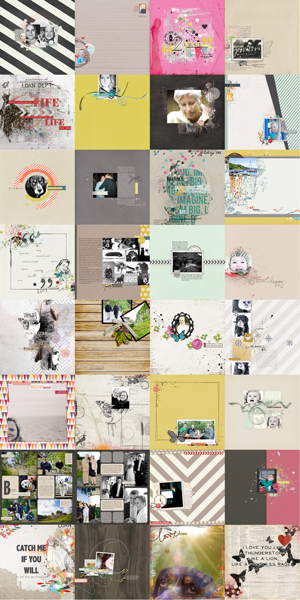 The whole do a layout a day is something I've done before. I even started a challenge at DSP called The Consistent Scrapper (which I believe Webfrau has been good enough to continue after I left). So when The Lilypad started their Month of Challenges January 1st I thought this was going to easy. [Insert pause for you to think how completely and utterly naive I am].
I guess I had to learn it the hard way that there's a world of difference between doing a layout a day and a challenge a day. About half way through there was a challenge that made me give up. I couldn't see how to get it done and therefore I didn't want to bother with the rest of the challenges.
But it kept nagging me that I wouldn't be finishing. I tried a couple of times but stopped again thinking I would never finish in time.
On the very last day madness struck me. And it did it in a sneaky way. I didn't even know what I was doing until a couple of layouts later. I was 14 layouts behind and after two I thought "Hmm, maybe I could just do them all?" Someone should just have stopped me there because 10 hours later my entire body was aching from sitting in front of the computer. My head couldn't think a single original thought and I saw everything in layers.
But I did it. I finished all 31 layouts and looking at them now I'm glad I did. With only a few exceptions I love them all. However what is even more amazing is that I managed to use a photo of myself on 6 of them which must be some kind of record for me.