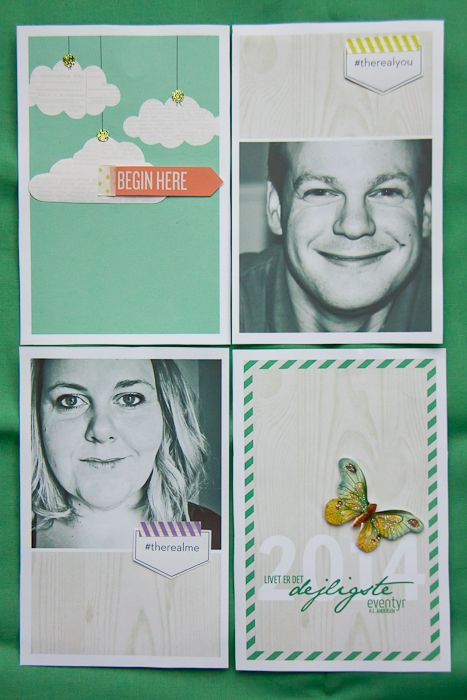 I guess it's from one extreme to another this week. From the messy world of art journaling yesterday, to the strict clean lines of Project Life today. Another thing of my list is doing another shot at Project Life - or as it will be in my case Project Jeanet because to be honest apart from the whole document your everyday and put it in pockets this has nothing to do with Project Life.
I've been wanting to do an album but I couldn't wrap my head around sitting with a 12x12 inch album. It was too big for my needs. I've tried the digital version but I hated that I didn't get to sit with the finished album until the end of the year.
So this year I'm using an European standard. An A4 photo sleeve with room for 4 10x15 cm photos. I have no intention of having to do a two page spread every week. I don't even intent to make an entire page a week. I'll fill in as we go along one pocket at the time. Some will be strictly digitally made, others will be an attempt of going hybrid.
And let's just get that over straight away. I am a digital girl. I can't cut straight. If I try to glue something I can be certain to get a decent amount of glue on everything close to me. I have no idea how to do any of the fancy techniques I see others do. I hate that I can't press ctrl+z or once something is glued it is stuck there for good.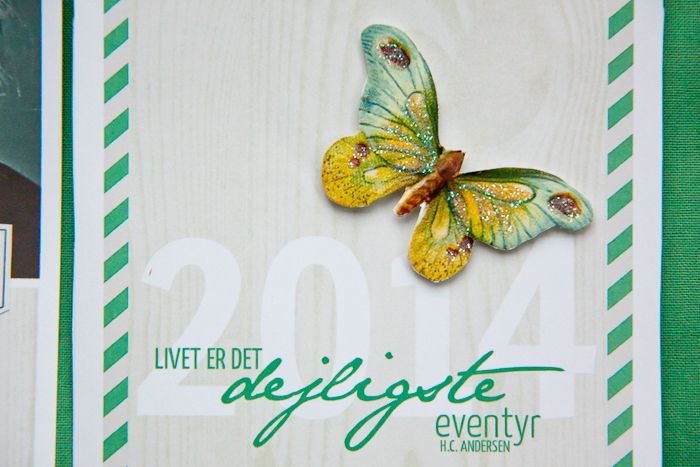 So why you might ask would I even bother to give it a try? Because I'm deadly jealous of all you paper scrappers. Paper scrapping has a certain personal touch that digital will never have. Sure many of those who've followed my scrapping for years will recognize a 'Jeanet Original' but generations from now they will look at them and not realize the hours I've spend tweaking a layout instead of simply use a plopper. Glue and scissors - that's a sure sign that someone spend a good deal of time thinking this over. Wow, I had no idea my reason for wanting to hybrid would be so vain. But there you have it. I'm obviously vain.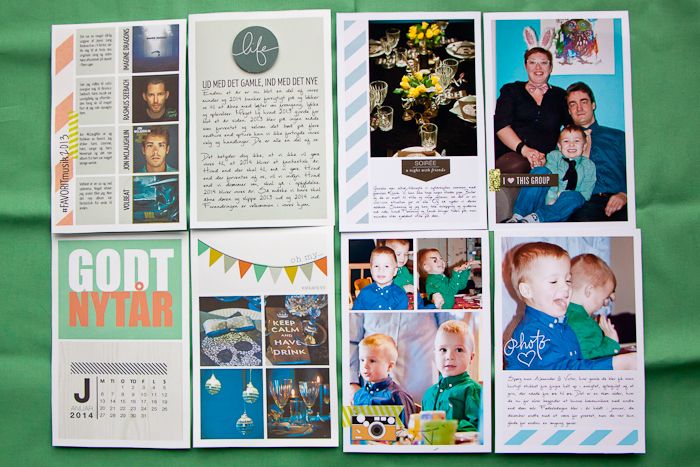 I still have many things to learn. Like how to take a decent photo of the spread. I only thought of it after it was beginning to get dark on a rainy day and I know I could have waiting until tomorrow but it's likely I'd just forget it again tomorrow. So the photos are as good as they get. You might also notice the color difference between left and right. That's because I picked up some new paper before making the right page. I simply wasn't satisfied with the cover and the first page. I will eventually do them over to get them in the same quality as the rest. I'm sure that as the album progresses I'll get better at making it look more cohesive and balanced. But I have to admit that I get a sense of accomplishment sitting there with the printed photos in my hand.
I'm using a mix of different
One Little Bird products
and much like any of my scrapping, keeping a complete list of products, is nearly impossible to me. But I do want to mention one product that I've used over and over again.
Key Notes
is actually a font and not only a font but one you can install and use on your smartphone. Now that's just, well, smart. If you prefer it is also available as png files. I use them for all sorts of things. As part of stamps, as word art and on more than one occasion I've cut out the small heart and used that alone. So versatile and I don't even mind that's not in Danish. Some things just sounds better in English.
So that's it. My first ever attempt on doing anything hybrid. I feel like such a newbie again but it's fun trying something new.