I've done a little spring cleaning on the blog. Usually when I wanted something new to happen I'd simply redo the design but I kind of like what it looks like at the moment and with my promise of lots of freebies for you in 2014 I thought it was time to not only check old download links but also redo the freebies section. It linked to every post I had ever written using the keyword Freebie and so many of the old freebies were either 1) unbelievable ugly or 2) no longer available.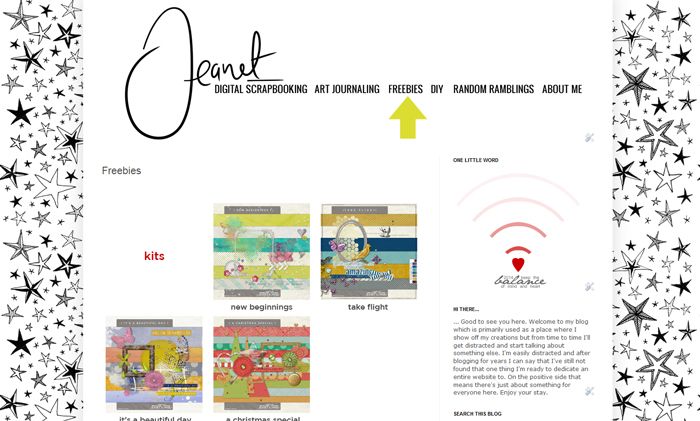 So I've made a page where you can see the previews of the current freebies and as I said there will be plenty of new ones in 2014. So check back regularly. I've had request about putting some of my old DSP kits up for sale again. I can might as well let you know now that it won't happen. I may however give some of them an update and offer them as freebies. Let's see what happens.
Among the kit freebies you might notice one that haven't been offered before. It's my
New Beginnings kit
that I've made for a designer challenge. I decided to go a bit more in an art journaling with this one. Probably inspired by the
layouts
I did this weekend for the Art Journal Caravan. But no worries there's still plenty of elements for you digi scrappers.
Now go ahead and click the freebie tab and see if there's anything you've missed. You can download the New Beginnings kit by clicking the image. That'll take you straight to Mediafire. And don't forget to leave a little love if you download, that'll be more than enough reward for me.