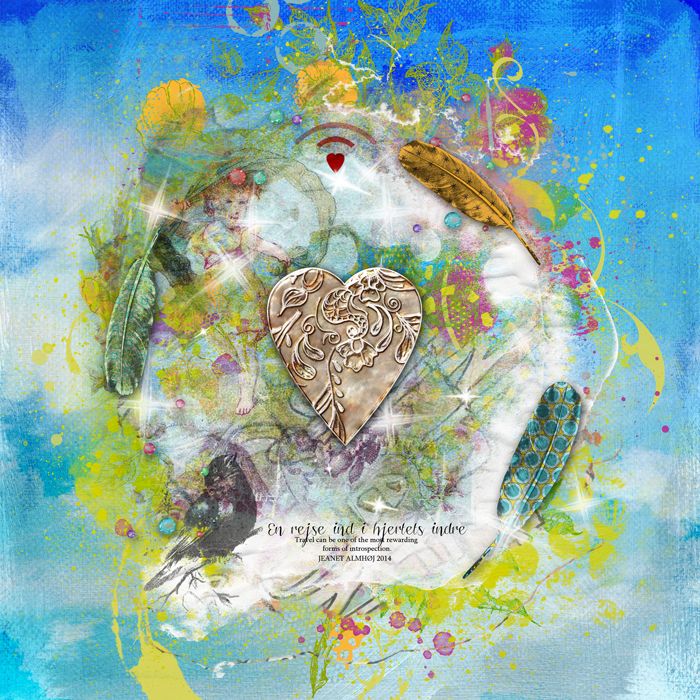 One of the
6 things
I mentioned wanting to do in 2014 was Tangie Baxter's Art Journal Caravan. The first prompts were to be published this past Friday and I might as well apologize to begin with. This post is going to be long and selfcentered. So you are excused if you decide just look at the pictures.
All day Friday I was hitting F5 every ten minutes or so, hoping, praying, that the first prompts from the
Art Journal Caravan 2014
would be up earlier then announced. I was so eager to learn where all of this was going to take me. I didn't know what to expect but a part of me was expecting that we would just be handed all the answers. That somehow the work stopped right there. Does that even make any sense? I seriously thought I would see the prompt and go 'Oh yeah, of course, that's it!'
I guess you can already tell that wasn't the case. The prompts finally came up at the announced time just before I went to sleep and I read them in my bed and a frustrated sigh must have left my body because there were no answers. Only a million questions that would eventually lead to another million questions. At the same time the theme for January was so far away from anything in my world right now and falling asleep I thought well maybe that Tangie is just a little bit mad?
The following morning, in the bleak cold light of another winter morning in Denmark, I read the whole thing again and thought there's no way I'm going to be able to use this for anything. Mind you this is my first time doing her Art Journal Caravan and this was my first glimpse of how it works. Determined not to be defeated I started on her exercises. Started, walked away, came back, felt lost, walked away and tried a different approach and suddenly my mind was flooded with memories of a time long gone.
The old tree across the road from where I grew up where we had added a rope as a makeshift swing. I would spend hours there, alone or in the company of my brother. I could see everything from there and yet be hidden away. I would sing songs to myself or make up stories. I would spy on the neighbors or wait for my mother's car to come down the road. As always I started doing some random drawing in ArtRage. The tree started taking shape, the silhouette of a girl on a swing and I dragged the whole thing into Photoshop Elements where bits and pieces from various kits helped me tell me the story. This is by far my favorite way to art journal. A little something of myself with the help of others.
Finished I stepped back and looked at what had come from something that just hours before had left me uninspired and frustrated and I started to think that maybe, just maybe, this Tangie weren't so mad after all.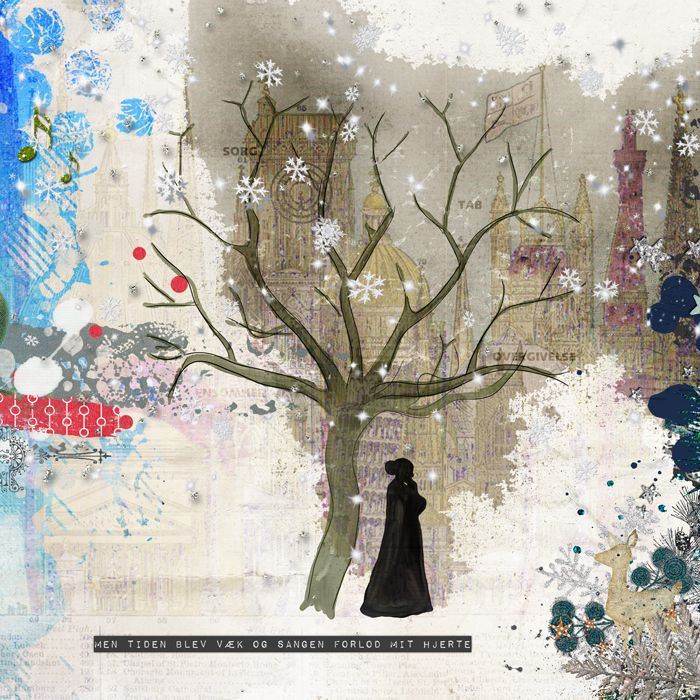 This year is however for me all about balance. Balance between heart and mind and after the layout was done and I left it alone my mind started playing tricks with me. 'It's too much heart. This is not your reality' and finally I had to cave in because this isn't my reality any longer. The leafs are gone. The tree bare and no longer a hiding place. For me this first exercise ended up being a realization of the difference between being a child and a grownup. The simplicity of trust and love a child experience and the complexity of loss and solitude in a grownup world.
Somehow I have a feeling that these first months of the Art Journal Caravan will show a lot of sad and dark creations but this is a part of who I am and needed to get where I want to be. So don't you give up on me just because things might get a bit sad around here at times. This is all part of my journey.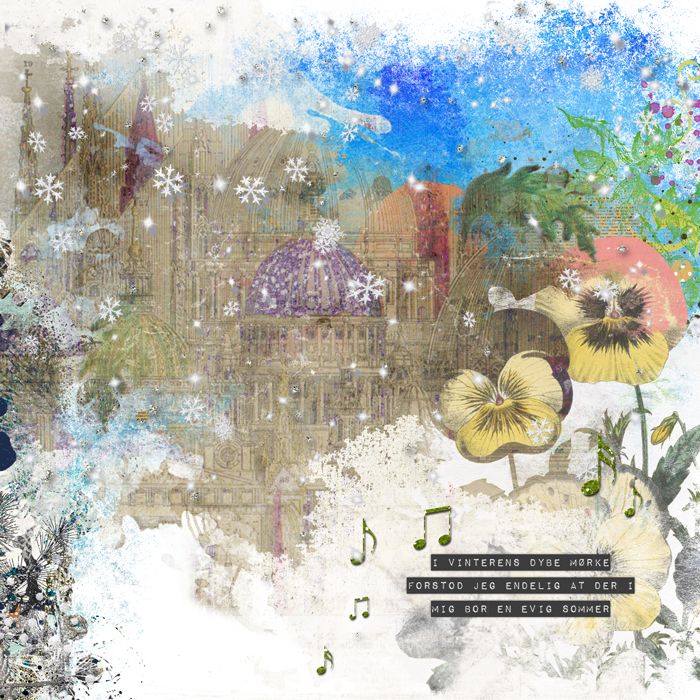 The journey this week didn't end here. I couldn't let go of it in a miserable place and yet the sadness couldn't be completely dismissed either. I needed something that could push me further away from the Sunday Blues. It was a quote mentioned by Tangie in the prompts that helped.
In the depth of winter I finally learned that there was in me an invincible summer.


Albert Camus
The journey is about finding me. Finding that I am enough and that is exactly what the quote is all about.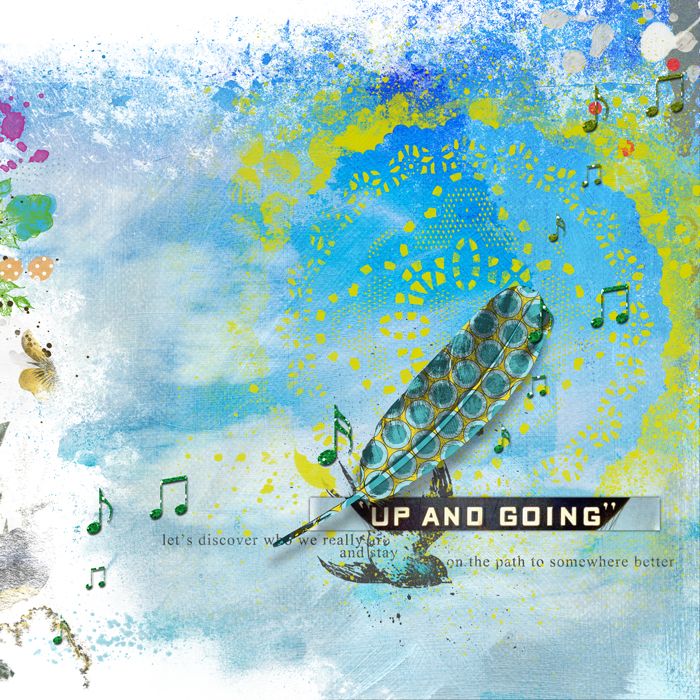 And that's where my journey ended this week. 'Up and going'. Ready for whatever adventure 2014 will bring. Ready for tackling whatever sad memory or horrible feeling I might have and say goodbye to it. This is only week one and so far I have no regrets signing up. This is going to be good.
Now you might have noticed the continuity between the layouts so let's just have a look at them combined.

I've already mentioned a bit about my process when creating but let's just look at the layouts for a minute. I didn't have a set idea on how I wanted to do this when I signed up for the AJC. I still didn't when I picked my one little word Balance but somehow this came to me as the only way I could imagine once I started creating. The pages sort of overlapping in theme and design but with very different points of view. I like this idea right now and it speaks somehow to me. I'm not saying this will be my solution for the entire year but for now it's working for me. If I need to grab a few of the unpleasant memories I need to balance them with good ones as well. See all about balance. The frequent visitor to my blog will also notice that I've gone back to the 8x8 canvas. I went back and forward a few times on whether or not I should do this or stick to a more European format but in the end economy won. A 8x8 inch album is just cheaper to print and I do hope that this journey will give me many insights - and many layouts to keep and treasure.