Forget whatever I might have said at one point or another about how talented Peppermint of One Little Bird Design is. I've changed my mind. She is totally to blame that I've been going insane these past few days after introducing her latest kit; Troublemaker. Day and night I've cursed her name. Couldn't she have named the kit something else? Ever since seeing the name I've been singing
Troublemaker by Olly Murs
- and trust me I don't even like that song but the word stuck like glue to my mind, refusing to give me even a moments rest.
But I guess she can't really be blamed that my mind works in mysterious ways. I can't even see the words 'You make me happy' without automatically begin to sing '...when skies are grey" Luckily the singing always happens inside my head and doesn't come out of my mouth. Now that would just make me weird[er].
Speaking of troublemakers.... When I had finally stopped the manic singing of Olly Murs' song, I could only think of one troublemaker. My best friend
Susanne
's adorable son, Xander, the star of so many of many layouts - and memories. He's such a cheeky kid but it's difficult to hold it against him since he's such a charmer as well. I'm telling you ladies - he's going to break some poor girl's heart some day and get away with it.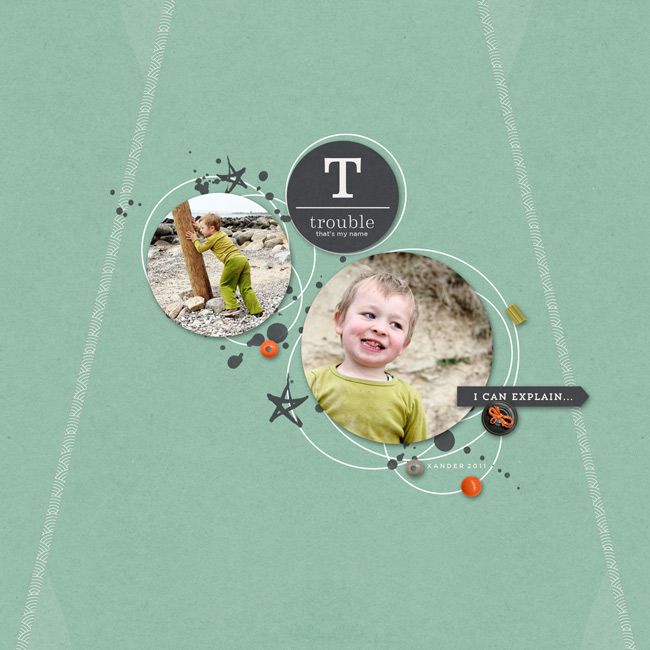 And since I had already made the template for myself I might as well share. Christmas is all about sharing after all, right?
DOWNLOAD HERE
And don't forget to check out the products from One Little Bird. If you pick them up this weekend you get them at 20 % off. Sweet!
Troublemaker Elements
Troublemaker Papers
Troublemaker Journaling Cards